| | |
| --- | --- |
| | Infrared Thermographic Surveys/Inspections |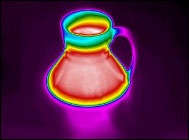 A hot cup of coffee
This is defined as, 'Infrared thermography is the science of acquisition and analysis of thermal information from non-contact thermal imaging devices'. Where thermography means 'writing with heat' just like photography means 'writing with light'.
Applications are numerous and diverse with trained CVS thermographers having over 15 years experience in 'Condition based Maintenance'.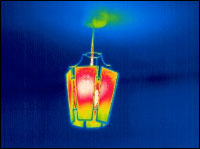 A ceiling light pendant
Examples of Infrared Thermographic CM applications:
Electrical: HV and LV Distribution, machine panels.
Mechanical: Rotating equipment, tanks and vessels Insulation and refractory of furnaces, boilers and associated pipework.
Fluid flow problems

Research and development for scientific and product development are also areas where thermography can play a key role.
Who can benefit from using CVS thermography?
All industry sectors including manufacturing, automotive, paper, food and drink production. Utilities, Office buildings, Hospitals, Hotels.
What are the benefits?
Fire Prevention:
To meet insurance company requirements:
Increased plant uptime:
Improved equipment reliability and safety:
Lower operating costs:
The fact that many potential breakdowns manifest themselves by changes in temperature long before they get to the failure stage, is an opportunity to use thermal imaging as a means of highlighting potential problems before they develop into faults. The temperature data is collected by means of a non-contact thermal imaging camera. Localised hot or cold spots, temperature differing from the expected or temperatures changed from previous recorded trends, indicate potential problems, needing more detailed examination.
| | |
| --- | --- |
| | Applications |
The main uses of infrared monitoring are: electrical equipment, rotating equipment, process piping and vessels, building energy loss and production processes.
To detect abnormal conditions in live electrical systems caused by poor connections, failing components, electrical overloads, etc. Equipment typically surveyed includes: Motor control centres, Transformers, Substations, Capacitor banks, Light and power panels, Drives, Terminal rails, UPS Power supplies, Overhead lines, Motors.
To detect temperatures under running conditions, of bearings, belts/pulleys, couplings and so get an indication of slippages or friction.
To detect fouling/blockages, underground and insulated piping leaks, insulation failure, refractory breakdown.
| | |
| --- | --- |
| | Buildings |
To highlight areas of building surfaces where there is excessive heat loss to atmosphere and areas where damp penetration of the fabric of the building occurs, location of services below the building surface.